Leave Your Lawn, Tree, and Shrub
Maintenance to Us
We made a name for ourselves in the Houston area because of our work's consistent results. For more than 20 years, we have acquired new customers while keeping the old.
Texas Green Turf cultivates the greenest grass at the most reasonable rates. Proper fertilization and weed control techniques, along with using the best products are the mark of a professional.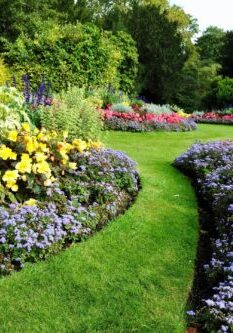 Your grass will be adequately fertilized and treated for threats such as diseases and pests the entire year. The program involves the use of products such as:
Lawn Fertilization (Application During Each of the Eight Visits)
Fungicides 
Weed Control Applications
Insecticides
Our visits span between five to eight weeks apart, so we can catch any problem before it spreads. The package has proven its success through the high percentage of repeat customers.
Other than being state-certified, all of our technicians go through rigorous training programs before providing the services you need. We also believe in continuous education and improvement, which is why our licensed applicators go to annual training.
Texas Green Turf will make sure you know how much you will pay before we begin to work on your lawn. We can give you a free lawn evaluation that can be done either online or in person.
Our turf care service pricing is mainly done by your property's area. You can either pay per application or we offer an 8% prepayment discount for 8 applications.
Tree and Shrub
Care Services
Our pricing will be more dependent on the types of flora in your landscape, as well as the area involved. This is also why we will prefer to come to your property to do the evaluation. By doing so, we can give you the most accurate and honest assessment for our tree and shrub care program.
Like our lawn care program, our tree and shrub care regimen consists of eight steps. Your plants will receive inspection and attention on a frequent basis. There will be approximately six weeks in between each visit. This way, any problems will be taken care of before it gets worse.
The thorough eight-step program aims to bring your flora optimal nutrition and prevent them from natural threats, using measures such as:
Fertilization
Soil Modification
Dormant Oils
Insecticide and Fungicide Products
Our fertilizers are heavily fortified with both macro and micronutrients. We choose those that are specific to the types and species of your plants. Our continuous education and research help us tailor our service to the needs of your individual property.
At Texas Green Turf, we do not send anyone that is less than completely qualified to look after your plants. Tree and shrub care preparation demands more involved training than lawn care, which is why we make sure our employees are fully prepared.
We have state-certified employees who underwent our personal training regimen. Their adept skill is not their only exceptional attribute. You will also find them approachable and eager to answer any questions you may have about your plants and our work.
Our chemicals have been chosen through careful research and have been proven to be the best. Though our traditional products are relatively nonhazardous, we understand that some people have preferences towards a more natural approach. We also offer alternative products upon your request.
Because we place a high priority on customer service, we have been a leader in tree and shrub care in the Houston area for more than two decades.
In the event that you see a problem with your tree or shrub in between our application visits, we offer free service calls. Our technicians will fix any occurring problems at no extra charge.
We know that making your yard beautiful and having the upkeep hassle-free is what you deserve. Other than lawn, tree, and shrub services, we offer specialty lawn services specific to the needs of our clients.
This focuses on the prevention of sod webworm infestation. These pests are often unseen by homeowners until they cause damage. Our preventive action is important in stopping damage before it starts.
Although the spot treatments may control the spores and keep the Brown Patch from spreading, the grass may not have time to recover before growth slows or shuts down for the season.  Spring growth will be the first chance for recovery. 
Texas Green Turf offers a fall program to help reduce and prevent the chances of Brown Patch activity, limit its damage, and help speed the recovery if spores are already present. 
The Brown Patch program consists of 3 applications applied at 35-45 day intervals, beginning last August or early September. 
Compacted soil and heavy thatch are two big obstacles to a beautiful lawn.  They tend to suffocate grass plants by preventing air, water and nutrients from reaching the root zone.  Aeration is accomplished by the use of a machine equipped with cylinder-like spoons perforating the soil with small holes.  Half inch diameter plugs of thatch are pulled from the ground during this process. 
Our nuisance insect program consists of two separate treatments at 1-2 weeks intervals.  The first application will provide immediate relief.  The second application will clean up remaining workers or newly hatched insects, breaking the egg laying cycle.   
We also provide a year long control for fire ants using TopChoice insecticide, the #1 professional treatment for fire any control from Bayer. Treatment includes all turf area and beds. 
Reach Out to Us
We are happy to provide you with more information. Contact us through phone or email to schedule a free evaluation of your property.